Garmin LiveScope Plus System, with GLS 10 and LVS34 Transducer
The latest in LiveScope technology, the LiveScope Plus System offers improved resolution, reduced noise, clearer images and better target separation.
Features
See images clearly with improved screen clarity, transducer sensitivity and target separation.
Scan surroundings with sharper images, reduced noise and fewer sonar artefacts.
Upgrade your current LiveScope System black box (GLS™ 10 sonar module) with just a new transducer.
Get maximum contrast and clarity in your images with vivid colour palettes.
Don't miss a thing with supported Forward, Down and Perspective modes and necessary mount.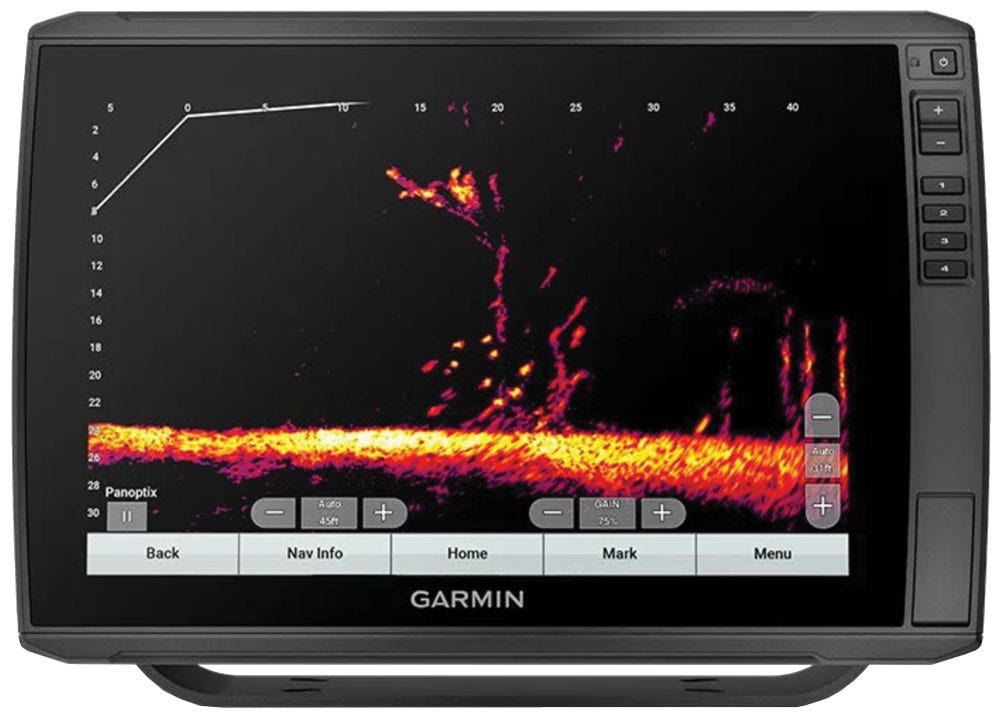 REAL-TIME IMAGES
Real-time sonar ensures that your live images are as accurate as possible.
CLEAR VISION
See exactly what you need with reduced noise and fewer sonar artifacts that impede your picture of fish and structure.
IMAGE STABILISATION
A built-in stabilisation system keeps the sonar image on your compatible chartplotter steady, even in rough conditions.
VIVID COLOUR PALETTES
Choose from seven vivid colour options including Aqua, Caribbean, Lava and more to see fish and structure in maximum contrast and clarity.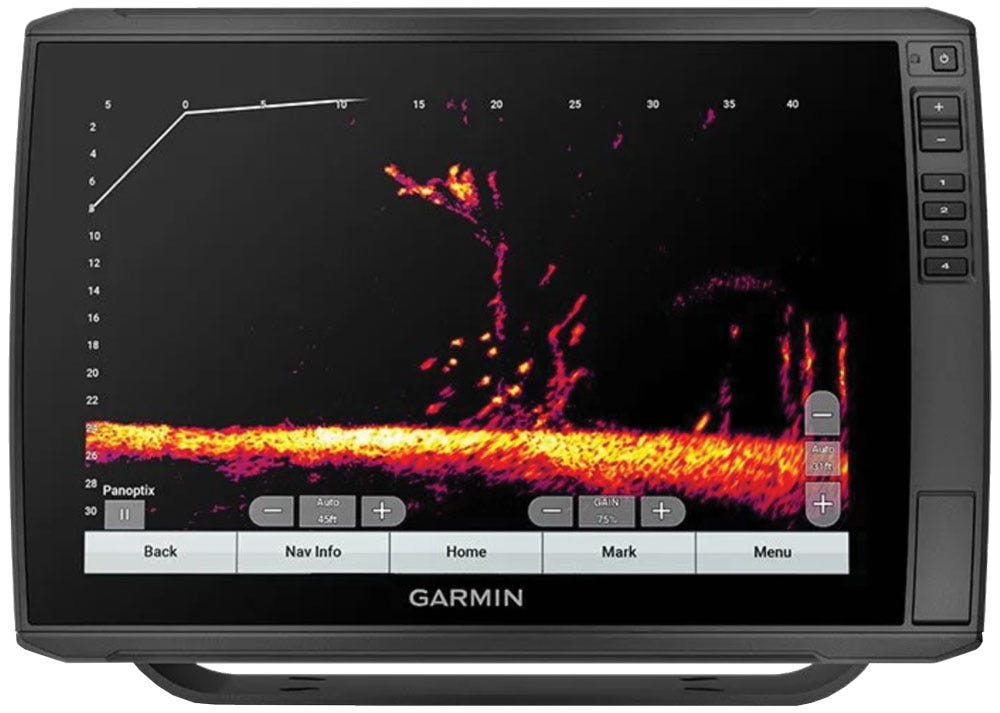 FORWARD MODE
Scout ahead of your boat to see what's happening in real time.
DOWN MODE
Explore live views of the activity directly beneath your boat.
PERSPECTIVE MODE
See under the water with a view from your perspective above the water.
Specifications
Specification

General

Dimension: GLS 10 sonar black box: 24.5 x 14.9 x 6.5 cm;
LVS32 transducer: 13.7 x 9.7 x 4.6 cm
Weight: GLS 10 sonar black box: 2.0 kg;
LVS32 transducer: 0.9 kg
Waterproof: IPX7
Transducer beamwidth: 20° x 135° 
Transducer cable length: 20 ft
Transducer number of pins: 21
Temperature range GLS 10 Black Box: Operating: -15 C to 70 C
Panoptix LiveScope LVS32 Transducer: Operating: 0 C to 40 C

Sonar Features & Specifications

Frequency: 530 - 1,100 kHz
Maximum depth: Down and Forward: 61.0 m
Sonar Type: Live
Target Separation @100'  14"
Perspective Mode Mount Included: Yes   
Minimum depth: 3' (0.91 m)
Sonar Type: Live
Transducer cable length: 20 ft (6.1 m)
Transducer number of pins: 21

Connections

Garmin Marine Network Ports    1 (small connector)

Electrical features

Power Input: 10-32 V
Power usage: 21 W typical, 58 W max
Transmit power: 500 W
Fuse: 7.5 A
Compass safe distance: 4″ (0.1 m)

In The Box

LiveScope GLS 10 sonar black box
Panoptix LVS34 transducer
Perspective mount
Trolling motor barrel mount
Shaft mount
Power cable
2 metre Garmin Marine Network cable (small connector)
Network adapter cable
Documentation
CHRISTMAS ORDERS
Australia Post and our Commercial Couriers are expecting the festive season to be extra busy this year. Based on their advice, we cannot guarantee orders placed after the cut-off dates listed below will be delivered by Christmas.
To avoid disappointment place your Christmas orders as early as possible.
Overseas, offshore islands and distant mainland locations may take up to 3 or 4 weeks to deliver. Please contact your local Mail Order Department to discuss specific details relating to your situation.
SHIPPING
All orders are shipped from our Brookvale, Sydney order fulfilment centre. Orders are normally shipped within 5 business days - most quicker!
Shipping day estimates after your order leaves our fulfilment centre in Sydney are based on Australia Post domestic delivery times:
| | | |
| --- | --- | --- |
| State | Regular | Express |
| ACT | 2 - 3 business days | 1 - 2 business days |
| NSW | 2 - 4 business days | 1 - 3 business days |
| NT | 4 - 13 business days | 3 - 5 business days |
| QLD | 3 -12 business days | 2 - 4 business days |
| SA | 3 - 5 business days | 2 - 4 business days |
| TAS | 4 - 8 business days | 2 - 4 business days |
| VIC | 3 - 5 business days | 2 - 3 business days |
| WA | 5 - 10 business days | 2 - 6 business days |
Last updated 12/09/2023
* These delivery times are an estimate and actual delivery times may vary based on peak periods and other external factors. Bulky orders may take longer.
Shipping rates are automatically calculated based on live quotes supplied by our shipping partners. The quote takes into consideration, the bulk of your cart, where you want it delivered and if you want express or standard shipping.
Get a shipping rate estimate by adding items to your online cart. Go to the cart by clicking on the shopping cart icon located at the top right of the page. Then enter your shipping destination information into the "Estimate Shipping and Tax" section of the shopping cart summary.
International Shipping
We are currently unable to deliver online orders outside of Australia.
If you are located outside of Australia and wish to place an order offline. Please contact our Mail Order department or send us an enquiry via the orange help bubble located at the bottom right of this page.
RETURNS
Online purchases can be returned/exchanged within 30 days. Some exclusions do apply.
Visit our Returns Policy page for details on how you can return an item.